Qatar's ambitious future driven on by North Korean 'forced labour'
The Guardian - 7 November 2014 - As dusk falls on the luxury high-rise emerging from the swirling sands in the desert north of Doha, dozens of labourers hurry off the construction site and its surrounding buildings and on to buses waiting to take them back to their accommodation.
Army of workers toil for long hours and receive only a fraction of their salaries as they work on Qatar's flagship development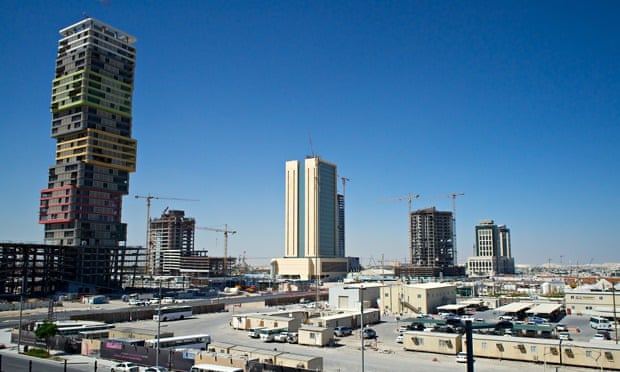 As dusk falls on the luxury high-rise emerging from the swirling sands in the desert north of Doha, dozens of labourers hurry off the construction site and its surrounding buildings and on to buses waiting to take them back to their accommodation.
First to leave are the Vietnamese, then the Indians, followed by Nepalese and Thais; a united nations of workers helping Qatar build the ambitious vision for its future.
But late into the evening, after everyone else has left, one group of workers toil on, their efforts lit only by an occasional fluorescent tube light. The voices echoing around the site reveal their unlikely origin. These men are North Korean; an army of labourers from a tyrannical dictatorship, working on perhaps the most high-profile development in Qatar: Lusail City.
When completed, the metropolis will have two golf courses, an entertainment city, housing for 200,000 and a state-of-the-art 86,000-seat stadium that is set to host the 2022 World Cup final.
"They work constantly," said a manager of the lavish tower project, which employs about 50 North Koreans. "I have even built a room for them so they can rest without having to go back to their labour camp."
The workers themselves are less forthcoming. They are highly suspicious and reluctant to talk. When one labourer was asked how long he had been working on the site that day, he said: "You don't need to know and you shouldn't know."
Despite the many hours they spend on the site, the North Koreans building the tower, and thousands more working on other sites across Qatar, may receive as little as 10% of their salary during the three-years they typically work in Qatar.
Instead, their earnings are expropriated by a chain of North Korean state-run bodies, overseen by Office 39, a department that reportedly controls a fund to bankroll Kim Jong-un's lifestyle.
Last month, the UN's special rapporteur for human rights in North Korea urged the international community to refer Kim to the international criminal court for crimes against humanity. But by allowing North Koreans to work on state-owned projects like Lusail City, Qatar is indirectly funding the Pyongyang regime.
It is all in stark contrast to the exclusive residence the men are building. When it is completed next year, the 19-storey tower will house four swimming pools and apartments that will reportedly fetch rents of nearly £9,500 a month.
It is one of about a dozen buildings now giving early shape to Lusail City. The vast development will reportedly cost £28bn, a price apparently worth paying for the honour of being the first country in the Arab world to host the World Cup.
According to the Lusail Real Estate Development Company, the state-run firm overseeing the project: "Lusail City will be one of the most important and significant cities hosting the teams, fans and audiences during the 2022 World Cup."
On the outskirts of the town of al-Wakrah, a short drive south of Doha, workers from the Indian subcontinent, Africa and China live in camps, known as bachelors' compounds.
The building that houses North Koreans remains eerily quiet on Fridays, when other workers are enjoying a precious day off. Inside, two red signboards hanging in the entrance hall leave no doubt about who lives here. "Our great Kim Il-sung and Kim Jong-il are with us for ever," says one. "Let us arm ourselves with the revolutionary ideals of our great Kim Il-sung and Kim Jong-il," reads the other.
But there is no sign of the workers. A man emerges from one of the rooms, and describes himself as a translator. "Everyone is at work," he says. "They will come back at 10 or 11pm." The translator works for one of a handful of state-run North Korean recruitment firms operating in Qatar, which supply workers to construction sites across the emirate.
"The company gets the money and we give small allowances to the individuals here in Qatar … The workers earn on average 3,000 rials (£515) a month. 2,000-2,500 rials goes to their families in Korea," he explains reluctantly before hurrying off saying: "I don't really have time. I shouldn't be talking."
In a nearby compound, another recruitment company representative also admits the workers do not receive their salary in person. His company employs over 500 workers, and when more are needed they send an email to North Korea, he explains.
"The workers receive 3,000 rials per month and work for 12 hours a day," he says in fluent English, which he learned in Pyongyang. "About 50% is sent back to workers' families. Our company makes money from taking a cut of workers' salaries." He refuses to say how much of a cut they take. "That's a company secret!" he retorts.
However, North Korean defectors tell a very different story. According to Park Sun Il, a defector who now works for the North Korea Strategy Centre, migrant workers receive only 10%-15% of their salary. The majority goes into the pockets of government officials and the remainder is passed on to the ruling Korean Worker's party.
"In the early 90s, workers did receive their salary but it has been stopped since the mid-90s," says Rin-il, who worked as a labourer in Kuwait until he defected in 1997 by walking into the South Korean embassy. "The construction company that employed workers sent all the money directly to the North Korean government's bank account."
Kim Joo-il agrees. He runs an organisation campaigning for human rights in North Korea, having escaped in 2005. "I think that the North Korean government takes 100% of the salary in some countries," he says.
Even the workers seem unsure as to whether they will receive anything for their labour. At a large hotel complex under construction in central Doha, a North Korean worker takes a short break close to the entrance gate. When we ask him how much he gets paid, he waits until no one else is around before answering: "I don't get paid. The company gets the money. When I go back to North Korea I'll get paid, I think."
Another more senior worker, who speaks a little English, says: "I get paid 1,500-2,000 rials a month. I receive 200 rials in person, and the company collects the rest. The company sends money to my family in North Korea." Then he pauses and changes his mind. "I'll get the money in the end when I go back. I will collect it from the company."
There is no doubt in the mind of the Egyptian security guard who watches them every day. "They start at 6am daily and continue till after midnight. Sometimes they take a break for food, or to drink some alcohol, and then they carry on working," he says. "All the money they earn gets sent to Korea; they only get a small amount for expenses."
Nevertheless, in a sign of how dire conditions are in North Korea, working overseas is still considered a privilege reserved for those with the necessary qualifications; loyalty to the regime, a wife and two children (to guard against defection), and money to bribe officials.
Even the miserly income that workers might hope to make overseas is more than they could ever dream of earning in North Korea. And for those who receive nothing, there are advantages of working abroad. "People still want to work abroad despite not receiving a salary because they can get food and accommodation. They cannot imagine eating meat and rice in North Korea," says Rin-il. "Also, they can earn extra income after the compulsory working hours if they are lucky."
Despite this, the conditions North Korean workers endure in Qatar are likely to constitute forced labour, a modern form of slavery, says Aidan McQuade, director of Anti-Slavery International. "The fact that these conditions may be viewed as preferable to life in North Korea does not negate the conclusion of forced labour," says McQuade. "It is simply a further dreadful indictment of the dictatorship in Pyongyang, which exploits the vulnerability of its citizens to enrich itself in collusion with the Qatari autocracy."
North Korea's policy of exporting labourers is not new. Pyongyang has been sending significant numbers overseas since the 1990s, but its crumbling economy, crippled further by ever tighter UN sanctions, has lent a new urgency to the policy.
"While it is hard to be sure of the exact numbers of North Koreans labouring overseas, you can say that, after Kim Jong-un was put in power, the number has doubled or tripled," says Park.
Defectors' groups estimate there are up to 65,000 North Koreans working in around 40 countries. They can be found in forests in Siberia, mines in Mongolia, restaurants in China, factories in eastern Europe and, increasingly, on construction sites across the Gulf. There are an estimated 3,000 in Qatar, more than 2,000 in the United Arab Emirates and more than 4,000 in Kuwait.
It is easy to see why they are popular with construction companies. "I have been dealing with the North Koreans since 2003. I like them. All contractors like them," says a project manager overseeing the construction of the hotel complex in central Doha. "They follow the rules of the army. They have their own targets, and the managers know how to control their people skilfully. They are very productive."
A project manager at the Lusail City tower agrees. "They are very disciplined," he says. "They are also willing to learn … and very hard-working. You can control them, guide and instruct them."
As dusk turns to night, the North Koreans building the tower labour on, hauling concrete blocks into the cage of the crane that looms over the site. Lusail City has been dubbed the 'city of the future', and in Qatar, this is what the future looks like.
A spokesperson from the ministry of labour and social affairs in Qatar said: "We take all issues around worker payment extremely seriously. All complaints we receive are investigated and where the law has been broken we take immediate action.
"The recently introduced Wage Protection System has been designed to ensure workers are paid their full salaries by bank transfer within seven days. The ministry of labour has also set up a system to file electronic complaints and ensured this is accessible to guest workers by placing terminals near guest worker accommodation.
"There are currently 2,800 North Korean guest workers registered in Qatar and we have no recorded complaints about their payment or treatment. Qatar is determined to continually improve labour conditions for all who work in the country, and will continue to work with NGOs, businesses and other governments to achieve this"
This selection of news and comment is provided as a service to Network users, and is not intended to be comprehensive. The articles featured are compiled by external agencies and in no way reflect the views of the ILO, its constituents or partners. Their inclusion does not imply the endorsement or approval by the ILO of the information contained therein.
Source: http://www.theguardian.com/global-development/2014/nov/07/qatar-north-korean-forced-labour